HOME | POSTERS | VIDEOS | PHOTOS | RADIO | SHOP | MUSIC | LINKS

---
Spring did Sprung! On our MARCH 2017 MilwaukeeRockPosters.com Radio Show. Enjoy the weather along with music by Citizen King, The Fatty Acids, The Vers, Otto and the Elevators, Java, the Mosleys and many, many more!! (Without the funding spots, by the way!)
2016 was the 10th Anniversary of MRP Radio and as of this month, we've now got 129 hours of music, which is way over 5 straight days of Wisconsin-based music! Check out the archives that go back to 2006 and enjoy!
---
Just released! Brick Through The Window an oral history of punk rock, new wave and noise in Milwaukee, 1964-1984. Cool stuff!
---
MilwaukeeRockPosters.com is proud to be a participant in Melodies & Memories: 200 Years of Milwaukee Music a comprehensive exhibit that explores the styles, people, organizations, businesses, and places that were, and continue to be, central to Milwaukee music. The exhibit time frame ranges from Native American music through to modern day and is built to appeal to people of all ages. Music has been called the soundtrack of life and is integral to the culture of Milwaukee County.

This article by Bobby Tanzilo of OnMilwaukee.com provides more information about the exhibit which runs through April, 2017.
---
We recently lost a good friend, well-known writer and extraordinary musician, Tom Laskin of the Appliances SFB and writer for the Isthmus. Check out his story in this Isthmus Article.
---
CHECK OUT THE VERY SPECIAL May 2015 MilwaukeeRockPosters.com Radio Show featuring an interview with the legendary (and sorely missed) Kenny Baldwin, talking with Paul Host and Tim Noble about the Starship days, local bands, national bands and more!
---
Visit the Facebook Lest We Forget Group Page.
---
The LEST WE FORGET LIVE CD RELEASE PARTY held at the Miramar Theatre on May 24th was a hit! Thanks to the bands and fans that made it another special night. LIVE CDS of the 2012 LEST WE FORGET are available here
---
The LEST WE FORGET Milwaukee Music Scene Memorial at Turner Hall on May 26 was a huge success. The sold out show featured a 14 band line up including Die Kreuzen, Tense Experts, 3XCleavers, Sacred Order, 3 On Fire, Rock-A-Dials, Dominoes, The Dummy Club, The Lubricants, St Bernard, Xposed 4Heads, Blackholes, Liv Mueller and a surprise appearance by Von Trash.

Check out the amazing Lest We Forget 360 VR images by photographer Scott Witte, it's like you were there, in fact you were and we can see you!

Below is a clip from the Haskels that was shown between bands at the show. There are 20 clips, all posted by MilwaukeeRockPosters.
---
HEY YOU. MilwaukeeRockPosters.com has lots of photos, music and POSTERS available for view. I'm glad you like the rare old posters, but STOP POSTING THE POSTERS ON YOUR OR OTHER WEBSITES without permission or credit. I've spent many hours scanning, posting, writing. 'Nuff said, Okay? -- Ron Faiola
---
Our pal Carter Hunnicutt sent us a slew (yes I said SLEW) of XCleavers posters from his collection. Check out the amazing artwork by Tom Holleran, especially the "Marquee" poster.
---
BLACKLIST Live at Summerfest Rock Stage, 1985 (25 years ago!?!) Photos: ffischer © 1985.

Legendary drummer, artist and all around bon vivant GUY HOFFMAN has sent MRP more original Oil Tasters poster art plus a new Oil Tasters photo from 1981 Check it out!

PLUS! We have posted the Haskels 1978 Press Kit sent in by Mort'd Hump. Priceless!
---
Cheap Trick at Humpin' Hanna's with InA Hot Coma, circa 1974 (?). We got this amazing artifact from Martin Miller and Martin Krohne. Krohne recalls the night:
"Our biggest gig was backing up Cheap Trick. At it, Presley Haskel, lead singer, wore skin tight leopard skin pants.
And he liked to jump around a lot onstage.
What Presley didn't realize was that the seam of his pants split just enough to show off more than he had planned.
This lead Rick Nielsen of Cheap Trick to thereafter refer to him as
The King of Milwaukee dick rock."
---
Featured on the MRP MUSIC page: History In 3 Chords a FREE download of the double CD set.
---
Les Paul Show Update: Jay Tiller's 1982 Blonde Les Paul Won Second Prize at the show.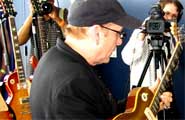 Rick Nielsen at the Les Paul House of Sound Guitar Show
---
Do you remember The Britins?
---
BOB AND JOE at the Miramar: PINK FLAG
---
---